When it comes to Digital Audio Recorders, the choice is overwhelming. But there is a key distinction between a "notetaker" and a "professional dictation" device. Starting at as little as $40 or even free apps on smartphones, you may be tempted to go for a cheaper option. But not all capture devices are created equal and there are some key factors you need to consider, especially in the legal and medical fields:
What are you recording? Personal notes, letters, interviews, or meetings?
Microphone and Audio Quality. Are you in a noisy environment? Are you using speech recognition and need to maximize your results to minimize editing?
Durability. Are you using the device all day every day?
Audio editing. Do you constantly make amendments to your recordings before typing up your documents?
Audio Encryption. Is data security important to you?
---
Our Three Audio Categories Defined
General Consumer Audio:
Our consumer level audio recorders are designed for casual notetaking, recording meetings and lectures, or even Vlogging. However, for Medical and Legal users the Encrypted Professional range are more suited to your needs.
Business Hand-Held and Transcription:
Entry level dictation and Audio file management with the DS-2600 hand-held and AS-2400 Transcription system. For general business industries such as real-estate, construction, and general report writing where encryption is not required, and simplicity is paramount.
Encrypted Professional Hand-Held, USB Microphone, Smartphone App and Transcription:
For Healthcare, Legal and Law Enforcement industries where data security, cleanliness and automated workflow is paramount. Our professional range of USB Microphones, hand-held dictation machines, Smartphone app's and transcription systems offer superior audio quality for superior speech recognition and document creation.
General Consumer Audio Products
LS-Series
The LS-Series offer professional filmmakers, YouTube enthusiasts, Musicians, Students and Journalists the sound quality and versatility that the LS Series of audio recorders is renowned for – in a compact and robust design making it the ideal companion as stand-alone recorder or a camera microphone.
DM-Series
The DM-Series is aimed at general business and education applications such as personal notes, interviews, meetings, and lectures. Featuring Voice Guidance and haptic button layout these recorders are also designed with the Hard-of-Sight user in mind.
DS-2600 – Digital Dictation Hand-held
The DS-2600 is built with an intuitive design and equipped with a 4-position slide switch, the DS-2600 is designed to be productive and dependable, for individuals working in any environment. Complete with a wide range of editing options for easy text creation to quickly modify your files, the DS-2600 will make turning recordings into notes as effortless as possible.
Key Points:
Intelligent two-microphone noise-cancelling Omni-Direction Microphone system designed for Dictation, Interviews and Meetings.
Slide-Switch Control for ease of recording and playback.
The Digital Speech Standard (DSS) Audio Format allowing for quick file editing (insert, overwrite, append, erase/cut) on your machine. Removing the need for addendums at the end of your recordings for ease of document creation.
Additional meta-data (index, verbal comments, work types, etc.) to facilitate collaboration and automatic processing.
---
AS-2400 – Digital Transcription Kit
The AS-2400 transcription kit is compatible with most of our digital voice recorders. The kit comes with everything you need to begin transcribing digital dictations with ease, including a foot switch, headset, and powerful software. This hands-free business solution allows playback of the industry standard DSS & DS2 file formats. The AS-2400 seamlessly integrates into the workflow of your office environment to save time and enhance productivity.
Key Points
Simple and easy to use audio management and audio playback with the included DSS Player software.
Multi-format audio playback including DSS (Digital Speech Standard) WMA, MP3 and WAV/AIFF.
Minimized 2 modes/views of operation for Transcribe bar.
Includes software, headset, and 3-button foot pedal.
Encrypted Professional Audio Products
Designed with Medical and Legal in Mind
Olympus Professional level dictation products bring even more advantages to the table. With Encryption, Security and Workflow at the top of the list, they differentiate themselves from the pack. Professional level dictation is for industries like Medical, Legal or Law Enforcement.
The DS-9000 is encapsulated in a 1.5 meter shockproof, alcohol wipe resistant body and equipped with an optical slide switch, the DS-9000 is designed to be a strong, dependable workhorse in heavy use environments. Complete with 256-bit AES encryption and device pin lock, the DS-9000 provides trusted security to your most sensitive information.
Intelligent dual microphones control the directionality to keep the focus on the person dictating and suppress ambient noise in offices, hospitals, cars, airports and other noisy environments. A triple layer studio quality filter ensures accurate voice capture while reducing unwanted sounds such as breath and wind vibrations. This ensures superior accuracy that enhances workflow efficiency.
Key points:
DSS-Pro 256-Bit Encryption for end-to-end data security with the DSS-PRO Audio format.
Slide-Switch Control for ease of recording and playback.
Wi-Fi connectivity with the DS-9500.
Available with Olympus Dictation Management Software (ODMS R7) for enhanced workflow including automated transfer via Email or FTP.
---
AS-9000 – Digital Transcription Kit
Mobile and desktop dictation only play to their strengths if the dictations get to the right destination, quickly and easily. The AS-9000 transcription kit is fully compatibility with Olympus' dictation management software, ODMS. You don't have to worry about who can transcribes your dictations, professional workflow solutions simplify the collaboration between authors, typists, typist pools and speech-recognition engines.
Key points:
Professional transcription software with secure 256-bit AES encryption.
Prioritization, noise reduction, tone, and level control.
Includes foot pedal, headset and ODMS R7 professional workflow software. Includes foot pedal, headset and ODMS R7 professional workflow software.
---
ODMS, One Cost, No Subscription!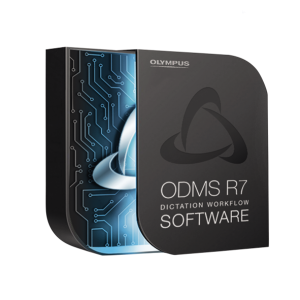 ODMS is the backbone for all professional level dictation products. The Olympus Dictation Management System, (ODMS), by OM Digital Solutions, is a scalable dictation management solution for small and large offices. Our proprietary DSS Pro (Digital Speech Standard) formatting compresses your files reducing their size by up to 5 times. DSS Pro gives you real time audio encryption which secures your audio recordings with 256-bit encryption. ODMS makes it easy to send your files as well as gives you the ability to convert DS2 audio files to WAV or WMA formats for editing.
No more factoring in a one-to-two-year subscription renewal into your spending forecast or remembering until the day it pops up on your phone as a reminder. Olympus Dictation Management Software is a one-off cost with no subscription required for the life of the release. With features like flexible automated file routing, trusted data security through 256-bit encryption, seamless interface to speech recognition, and a whole lot more. For the professional looking for a complete solution, Olympus professional level products are the right fit.
Key points:
Secure workflow with 256-bit AES encryption playback protecting your audio files.
Adaptable Audio Player/Recorder with the re-designed minimal interface providing a clear overview on your desktop.
Efficiently route files within the organization via network server, email, or FTP.
Multiple format playback, including DSS, DSS Pro, WMA, MP3 and WAV/AIFF.
Automatic association of transcription documents with dictation files.
Available in Dictation and Transcription modules.
Central administration via a browser. Hardware and software can be centrally managed in a web browser. Individual user configuration is easy to manage. SCP Package for central administration is available for purchase separately.
---
Olympus Dictation App
Are you a business professional on the go? For those who are frequently on the go for work, it can be easy to forget your digital recorder or run into a situation where it is unexpectedly needed. The Olympus Dictation App is perfect for these instances, especially if you need to quickly send your recordings back into your office workflow or email for transcription, as it can be used with Olympus Dictation Delivery Service (ODDS). Available for both iPhone® and Android™, the Olympus Dictation App allows you to create high-quality recordings wherever you may be with a variety of advanced recording features.
Key points:
Security thanks to 256-Bit AES encryption (DSS2 standard).
Data transfer via FTP, email or OneDrive.
Record (Insert and Overwrite) with Voice Activation.
Bluetooth microphone support.
6 languages available English, German, French, Spanish, Swedish, Czech.
12-month license with a free 30 day trial.
Available for iOS and Android.
---
Olympus RecMic Series Microphones | Desktop Dictation

The RecMic II Desktop Series Microphones are created to cater to the high demands of professionals who want excellent usability and results with any speech-to-text solution. The four models of this new series are providing the benefits of the innovative noise cancellation technology with the intelligent Two-Microphone-System for flexible directionality and noise cancellation. All devices also come with an extra smooth UV-coating and silent buttons to reduce disturbing touch noises. The antimicrobial surface meets hygienic requirements, especially in medical areas. The RM-4010P is equipped with a trackball, offering easy and fast mouse control. All buttons can be assigned with the commands you need most often, including the commands used for speech recognition.
Key Points:
Intelligent Two-Microphone Noise Cancellation System with built-in Triple-Layer Sound Studio Pop-Filter.
Alcohol resistant Polygiene® antibacterial and antimicrobial coating for added protection.
Trackball with smart Cursor Motion.
Handheld or hands-free stand mode.
HID compatible with dedicated application and custom modes.
Share