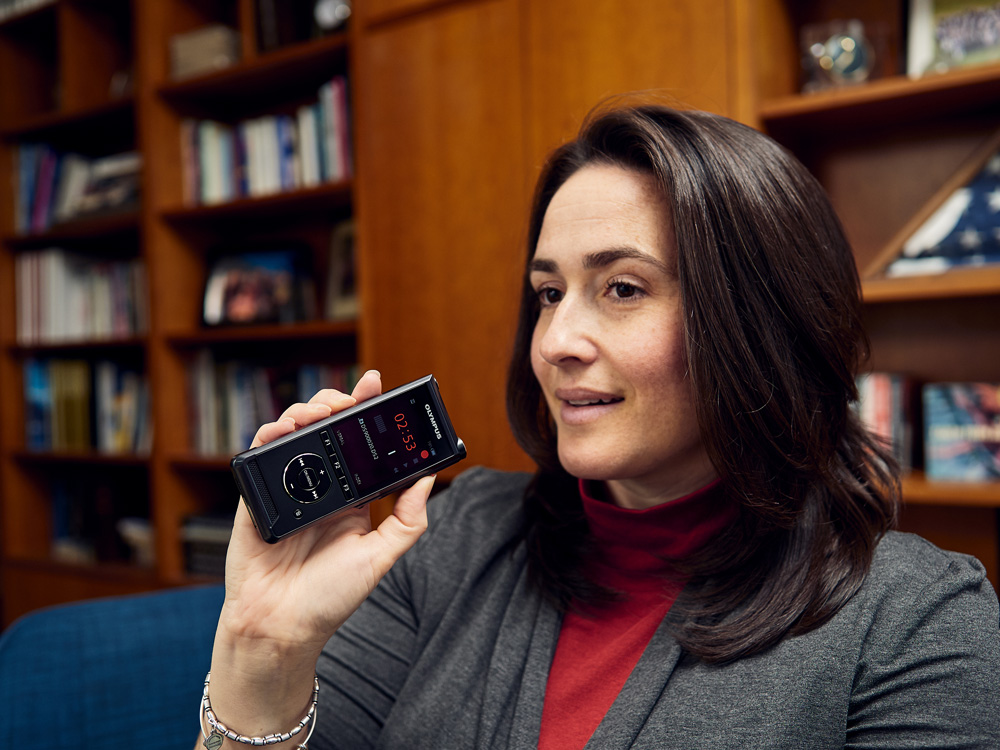 Working from home is sometimes a necessity, or even a government mandate during a pandemic. Professional dictation solutions provide a comprehensive and efficient method for streamlining dictation workflow, regardless of where the recording occurs.
With studio pop filters, intuitive interfaces, and shockproof bodies, Olympus Digital Recorders easily create clear and crisp digital recordings ready for transcription. 256 AES Encryption and device pin lock ensures that your most sensitive information is secure. Furthermore, the DS-9500 is equipped with WIFI capability; sharing dictations while working remotely is highly effective and efficient as a result.
From the device, transcriptions are sent through the Olympus Dictation Management System (ODMS). This process removes the need to download transcriptions on in-network computers and rather directly coordinates the workflow via pre-determined rules for file routing. Both efficient and effective for maintaining physical distancing during a pandemic, transmission through the ODMS is secure and reliable. 
This dictation workflow solution is just the ticket to enable continuity between work and home environments. When recorders share information via an office network or cell phone tethering, the ODMS will route the recordings according to preset rules within the workflow. A manager can easily send recording for transcription to their assistants without requiring the need to create an email, attach a file and send it on. The process is simple to set up and may already be in place, thus allowing in-office processes to be cloned to the home environment.
Transcription can easily be completed from a home office with the integration of Nuance Dragon Speech recognition, or with the help of the AS-9000 Transcription Kit. Once the transcription is complete, ODMS can quickly route the file to where it needs to be based on your workflow for other team members to access when working remotely.
Furthermore, within the ODMS, collective configuration, software updates, and unique customization are enabled, allowing for management of remote workers to be simplified. The ability for remote workers to have updated software while creating continuity between the various stations is key to a smooth running system.
The professional dictation solution creates flexibility in an increasingly dynamic work environment. Combined with our latest line of professional recorders, the ODMS software efficiently manages the work flow and creates rules for transmission. What makes the ODMS solution so useful is its ability to create a consistent workplace, regardless of where the recorder and transcriptionist are located. WIFI-enabled software and hardware allows the user to work both remotely and within network, with the same security and functionality mirrored in both.
Share