Stronger Infrastructure, Increased Stabilization, Ultimate Reliability
The newly updated Olympus Dictation App (ODDS) for iPhone® and Android™ makes it possible for you to create high quality voice recordings anywhere in the world with even better efficiency than before. This update was focused on cleaning up some of the minor bugs, upgrading processing speeds, and improving upon some of the already highly effective features.
---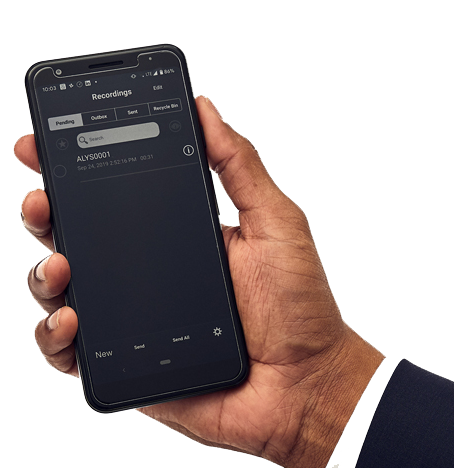 ODDS App Enhancements:
The Olympus Dictation App has just received a boost in the form of an update that is effective now as of July 14th. The update does not require any action by our existing users, as it will be made automatically in the background, however, users may notice the updated terms of service pop up once the update is completed. There have been a number of redundancies added to ensure safeguarded files, among other bug fixes and feature improvements. Some highlights of the enhancement are:
Increased global processing capacity.
A Health Check monitoring function.
User Notification System for enhanced notifications and status updates.
Maintenance Mode automatically activates to prevent data loss.
The character limit for entering email address domains has been removed.
Bug Fix – Recording start time now is marked when a recording actually starts rather than when a new file was created.
ODDS is highly stable and reliable with over 99% uptime. Now, any possible downtime has been all but eliminated with additional safeguards and redundancy processes. Happy dictating to all!
If you are unfamiliar with the Olympus Dictation App, you can read more about it here.
Share