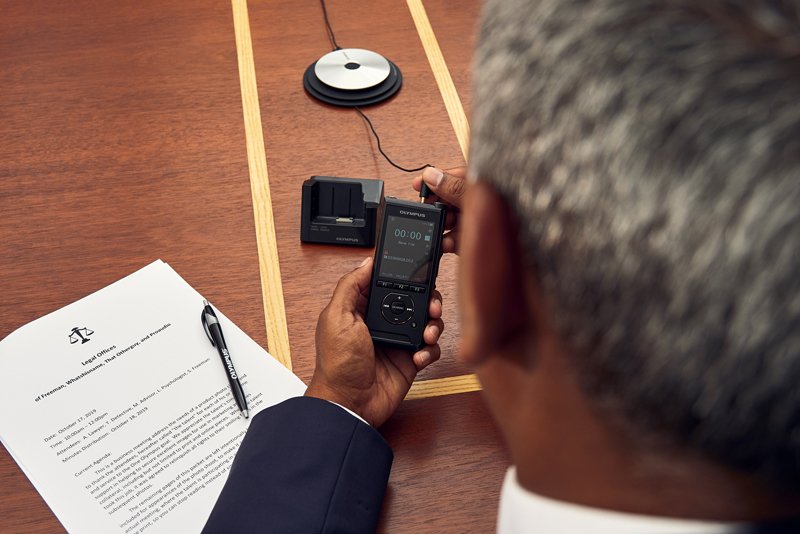 Our new hardware (DS-9500 Recording device and AS-9000) and an upgraded web platform bring it all together. Please note: Names and State System cannot be specified due to rules against endorsement. This study is to provide context and understanding of the functionality and abilities of an enterprise system.
After using Olympus Professional Dictation recorders for 15 years, one judiciary was able to realize the benefits provided by standardizing the recording process statewide and centralizing its management. Now they coordinate the purchase, distribution, and upgrades of recording hardware and software for the entire state from one main location. These changes bring uniformity to the process and convenience to the approximately 800 users in the system.
"Initially, the different judicial districts decided to 'go digital' and purchased DS-4000s, which had to be set up individually for users," explains the Desktop Support Analyst. "It quickly became apparent that we needed to have uniformity across the state for our judges, magistrates, and court reporters. When we upgraded to the DS-5000 and the system management program to manage the hundreds of users, it made a big difference. We have gone through further upgrades and are now upgrading everyone to the DS-9500s, and are using the newest Olympus WebSCP, which is a game-changer."
The Olympus WebSCP (System Configuration Program) is where each user's profile and recorder are configured and managed. Centralizing this function allows enterprise users to ensure the standardization of software installation and device settings for all users.
"Every judge and magistrate in our state is assigned a recorder. And every court reporter, even some court attendants, are assigned an AS-9000 transcription kit. Also, many juvenile court officers have eagerly adopted the Olympus Professional Dictation system in combination with Dragon software to record and then transcribe their notes. As they travel between youth offenders in various locations, they can record their notes, which they download at the end of the day for Dragon transcription. This process allows them to take fewer handwritten notes during visits and to capture notes quickly without having to remember all the details," notes the Analyst.
Streamlined Recording Device Set Up and File Management
The Analyst then goes on to explain, "With so many users, there is a lot of hardware and software to manage. The recent update to the newest Web SCP allows me to manage more processes remotely, saving massive amounts of time. The future version will allow even greater improvements to remote management."
Many Judicial Branches maintain thousands of court hearings, which are recorded across the state. All hearings must either be recorded or reported by a court reporter. In addition, even those hearings including a court reporter, but also using an interpreter, must be recorded. Each recording must be retained and accessible for a designated period, depending on the type of hearing, as determined by state law.
According to the Analyst, "Uniform user set-up allows us to manage the large number of hearings more easily. Before recording, judges choose between two folders into which to upload files: hearings or dictation. We also set up the software to prompt users upon download to enter the case ID number on each file immediately. Magistrates, on the other hand, only have a hearings folder since they do not work with transcriptionists.
One of the biggest advantages of using the Olympus Professional Dictation system, especially with the recent work from home requirements, is that judges and court reporters do not need to be in the same location. The court reporter is able to transcribe for any judge within their District from anywhere. This has resulted in a saving of time and money. In addition, for those hearings that need to be transcribed, any court reporter is able to provide the service from any location as well."
In addition to uniform profile set-ups done by the IT administrator, Districts can have their own Recordings Managers. These managers review files to ensure correct naming, conversion of requested files and help facilitate file transfers.
Ease of Use and Convenience Saves Time
"I use my recorder every day, Monday through Friday, for both hearings and dictation," says a District Associate Judge, who recently upgraded from the Olympus DS-7000 to the DS-9500. "Training on the new model consisted of about 15-20 minutes on the phone with our Analyst, and I was good to go. I am really pleased with the sensitivity of the microphone on the DS-9500; it picks up voices in a huge courtroom, and now with so many hearings being held via phone, even the recordings from those phone conferences are very clear."
"I also appreciate that it is small, lightweight, and easy to use," notes the Judge, who travels to several different counties for her job. "I can switch easily from recording a hearing to dictating an order by changing folders and hitting the 'next' button. I record multiple separate hearings before I put the recorder in its cradle to download them into the system. It's very convenient."
The Judicial System interviewed for this study does not use WiFi for file transfer. To do so would require each recorder to be assigned an IP address and would increase infrastructure requirements.
One Court Reporter says that she also travels to several counties – with her laptop, steno machine, headphones and foot pedal – to record hearings. When it comes to typing up dictations, however, there is a lot less travel involved than there used to be.
"Not every judge and court reporter need to live in the same area now," she explains. "I can work from my home county and type dictation for my assigned judge and for other judges if needed. I don't transcribe recorded hearings, just the rulings. I have asked my judge to try to keep rulings to 10-15 minutes since it takes me about 20 minutes to transcribe every 10 minutes of speech. That makes the process easier, especially if another court reporter needs to transcribe my judge's dictation when I am out or unavailable."
The court reporters use the Olympus AS-9000. One states that two of its features she appreciates are speed control and the ability to mark a file as "pending" if she doesn't have time to complete an entire dictation in one sitting.
Another Court Reporter has worked for the state judicial system for 33 years. She was one of the first court reporters in her state to use an Olympus Professional Dictation transcription kit and has since been upgraded multiple times, most recently with updated software on her State laptop and a new Olympus RS-31H foot pedal.
"My former assigned judge lived in another county, about a 30-minute drive away," says the reporter. "I used to have to make the drive to type my judge's dictation. The State had to pay travel expenses, and the commute cut into my available work time. The system eliminated all that unnecessary travel. I can just connect to the network via VPN, type the dictation, and my judge has the dictation to review within minutes of my completing it. We can look at the directory any time of the day and see if there is dictation waiting."
"Not having all that travel allows me to help more than one judge at a time," she continues. "Sometimes I type for three judges in one day. I can type from one desk and send it to each judge's folder. They are thrilled they are able to get their dictations typed so conveniently even though they may not have a reporter assigned to them on any given day."
Security and Support Built Into the Process
A requirement for any judicial system is that it be secure, with limited access to sensitive information. Recorded files from hearings are stored in restricted locations. With regard to dictations, the system can be set up so that judges only have access to their own, and court reporters have access only to those in their District.
"Many improvements have been made and many lessons learned over the past 15+ years," the Analyst concludes. "We have evolved our practices, and Olympus Professional Dictation has upgraded its system. Working together, we have gained greater efficiency. Our contact helps us troubleshoot when we have an issue and has even implemented many of our suggested improvements. While each state's judicial branch is structured differently, I would encourage other states to examine where they might be able to standardize and centralize their recording processes with Olympus Professional Dictation to save time and money."
Share