Advances in digital technology have transformed the process of dictation, offering voice recognition, dictation devices with increased  speed and accuracy, the ability to insert and overwrite dictation, and greater stability and integrity of audio files.
Already, using advanced digital dictation management systems has become a "best practice" within many industries to improve on-the-job efficiency.  For example:
In the Legal Field, with built-in enterprise security, today's digital dictation solutions streamline data sharing and distribution of audio assets between lawyers and staff, yielding exceptional ROI.
In Business, from executives taking notes on the go to the dictation of correspondence, businesses increasingly rely on dictation solutions that offer unparalleled efficiency and ease of use in the work environment and can be configured to fit any workflow.
In Law Enforcement, whether gathering evidence, recording traffic violations or interrogating a suspect, a quality recorder means everything for police officers and law enforcement personnel. For law enforcement officials, stakes are high and time is precious. Interviewing victims, suspects and witnesses is a complex process and accuracy is of utmost importance. Law enforcement demands dictation solutions with unparalleled audio quality, enhanced security features and trouble-free integration with existing software.
When it's time to upgrade your dictation management system, regardless of your industry or type of business, a little pre-planning can help you take full advantage of today's digital technologies.
Step 1: Document Your Needs
The needs of a business often evolve over time.  Something that worked for your company or agency just a few years ago may not be the best fit now. A quick "business analysis" can help you focus on the best upgrade solutions:
Describe your current dictation/transcription workflow

Using computers, tablets, and/or phones?

What operating system?

How many individuals are involved, and at what points in the process?

Are you having any problems or challenges with the current workflow or equipment?

Do you intend to expand the number of people involved in the workflow (e.g., assistants, partners, other authors, transcriptionists, etc.)?

Would you like to be able to send files over a wifi network?

What other criteria are important for your dictation management process to run smoothly?

What concerns do you have about implementing an upgrade?
Step 2: Evaluate Your Options
Another helpful step to take in planning for your upgrade is to be aware of some of the new features and benefits available in digital dictation management systems.
Key Features to Compare
Ease of Use
- Ergonomics/sliding switches
- Intuitive interface; single-handed or blind operation
- Wifi connectivity (no need to carry a PC); wireless file transmission
- Voice-to-text speech recognition

Security
When recordings need to be kept safe and private, look for:
- File encryption and PIN lock on devices
- Advanced security features (encryption, etc.) in dictation management software

Reliability
- Durability of device body
- Dual microphones for superior accuracy

Flexibility
- Choice of devices for portable or desktop dictation, as well as dictation via mobile phone
- Automatic routing of recordings into a company's workflow, either to a transcriptionist, directly into speech recognition software, or a combination of both (See Figure 1)
Efficiency
Enterprise solutions—those that work across a team for a coordinated effort and streamlined approach—allow you to design your workflow based on needs. Benefits include:
- Wifi connectivity (no need to carry a PC); wireless file transmission
- Voice-to-text speech recognition
- Central management of hardware and software (no need to keep track of individually licensed and managed devices and systems)

Compatibility
The best way to ensure compatibility is to consider purchasing complete kits (also called bundles or packages) instead of just individual components. This will ensure end-to-end compatibility—from dictation to file transfer to transcription to protected file sharing--within your upgraded system.

In addition, some manufacturers offer compatibility charts to help match hardware with your system requirements.
Affordability
Just like with compatibility, purchasing complete kits will often save time and money over buying individual system components, and without the risk of missing critical pieces when it comes time to implement.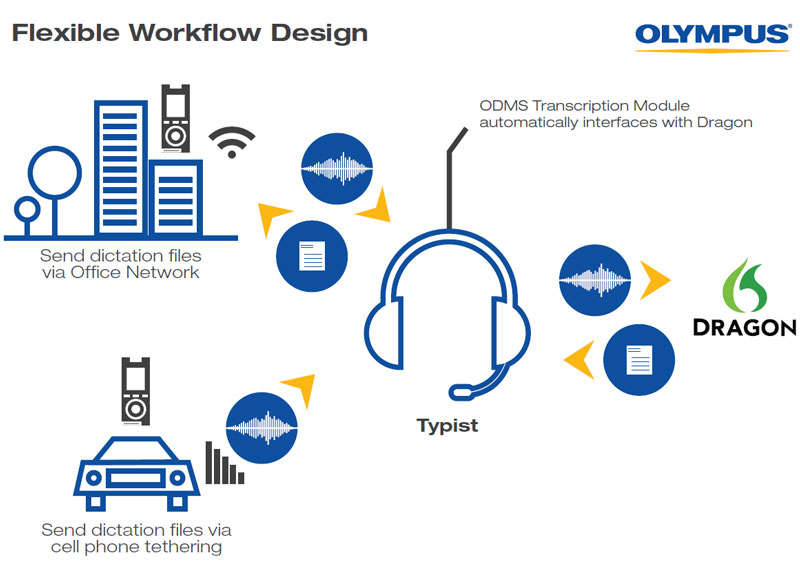 Figure 1: Portable handheld recording devices allow dictation on the go, and ODMS software automatically routes recordings into a company's workflow, either to a transcriptionist, directly into speech recognition software, or a combination of both.  ODMS integrates seamlessly with Dragon Naturally Speaking.
Step 3: Reach Out to an Expert
Once you have thought through what you need your upgrade to accomplish, it's time to get help from an expert who is trained in configuring the most cost-effective dictation and transcription solutions. A representative or authorized dealer can match your needs with the best-suited products.  In addition, all authorized dealers are equipped to help users set up their dictation devices, answer any questions that arise, and provide additional training as needed.
Many questions can also be answered by our training and tutorial videos found in the learning section of this website.
Share