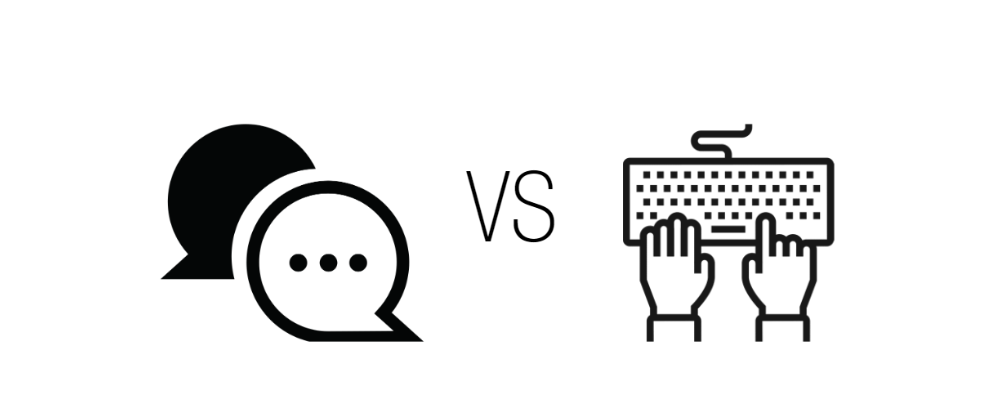 In business time is money but in the healthcare industry time saves lives. Capturing accurate critical patents and notes is vital especially when a practitioner will be seeing many patents on any given day. Typing up notes is time consuming but with Voice Recognition technology it turns the spoken word into text. Documents no longer need to be typed from scratch, with up to 98% accuracy, they only need to be edited for errors and formatting.
Not only is it important as to what software you use, but the quality of your audio capture device is also vital too. Background noise or a poor-quality microphone used will result in poorer recognition results. The better your microphone, the better your speech recognition results. This is where the RecMic II from Olympus comes in.
1. Why The Olympus RecMic II and Speech Recognition?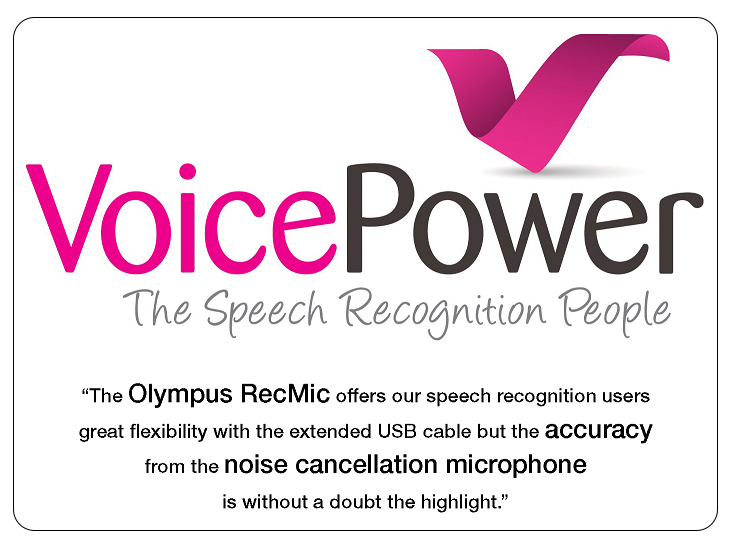 The RecMic II is a desktop dictation microphone that is ideal for noisy environments. The RM- Series is specifically optimized for use with speech recognition software, capturing natural speaking voices with ease. This feature is a super saver of time which means a super value to you and your clients. According to Courtney Castle of VoicePower UK, "Speaking documentation instead of typing is saving many of our clients at least 1 hour per day – When you consider what this means long term: 5+ hours a week, 20+ a week, and 260+ a year it's no wonder that speech recognition is taking off. Whether you're using that time to take on more clients, train your staff or reduce working hours, it's a win for both the staff and the clients,"
2. Speed & Efficiency
Think you're fast? Think you're real fast?
Did you know the average person can only type around 40 words per minute and above average is only 50 words per minute? According to TypingPal.com, competition speed is 120 words per minute. I don't know about you but if 40 is average, 60 is productive and 120 is competitive, then there is no way we're catching up with Lexacom Echo or other software platforms like it.
"Studies of users of our speech recognition software, Lexacom Echo, work at the equivalent typing speed of 160 words per minute. Which is about three times faster than most people can type," says Lexacom.
Saving time is a high value to companies and their clients. Lexacom goes on to further outline this by stating that, "When coupled to the Olympus RM4010P mic, the user experience is enhanced further, in several simple but valuable time saving ways.
• They can turn the microphone on and off and start recording with the simple thumb control. Meaning they don't have to touch the keyboard or use a mouse to get started.
• The mics noise-canceling and high-quality audio is perfect for speech recognition where recording quality is so important, and where the user is working in a shared environment.
• The programmable buttons allow users with both Lexacom DD and Lexacom Echo to efficiently swap between applications."
3. Performing Under Pressure
In many industries that use the Olympus RecMic II, the pressure is on. Health care industries, legal, social care, blue light services, as well as local government. Voice Technologies Ltd in Scotland in the UK excels in these areas with their voice-to-text systems and the use of the Olympus RecMic II. In high pressure environments like the healthcare industry, it is vital to be able to get the necessary information out quickly and accurately. When a patient's health is on the line, this is true. The chief executive officer for Voice Technologies, says, "Users report higher levels of job satisfaction as a result of using our voice-to-text systems because they have more time to focus on their core tasks. This, in turn, contributes to staff retention as well as improving levels of client / patient care."
4. When Quality Matters
If you've never heard it before, a strong saying in many working industries is, a High quality audio capture device is vital and when it comes to important information that needs to be accurately transcribed, the Olympus RecMic does not disappoint in capturing your dictations, even in noisy environments. According to Olivia Beke at Crescendo, a digital dictation and speech processing system provider for the medical, legal, insurance and law enforcement sectors, "Crescendo has provided countless Olympus RecMic's to our clients over the years as they boast industry leading sound quality for digital dictation and speech recognition software."
5. Turn Up the Speech with Nuance Dragon NaturallySpeaking
Speak-IT Solutions, a dictation product and service provider, hit the nail on the head when Elliot says, "Dictation allows work to be documented and captured in real-time. Yes, this is faster than manual typing, but also – thoughts, words and sentences often come more naturally when you are not waiting for your hands to catch up with you! This means that documentation is often more detail-rich – more comprehensive. More comprehensive documentation leads to better patient care, better reporting, and better service. Return on investment includes reduced document turnaround times, reduced strain on administration staff, reduced risk of RSI due to manual typing, improved quality of content through fewer inaccuracies and an improved work-life balance."
Gary May, Freedom of Speech Ltd, goes on further by stating, "I'm sure that many would agree that the pace at which speech recognition has evolve and been adopted over the last few years has been close to breath-taking. Combined with Artificial Intelligence, products like Dragon Medical Professional Edition are now even more accurate and easier to use."
Finally, Daniel Kube – Managing Director, WMC Diktiersysteme GmbH sums up why RecMic is important to their business, "As a long-term Olympus partner, we rely on the RecMic series of microphones for speech recognition. Perfect recording quality, the ergonomic shape and the unbeatable robustness in everyday use make the RecMics a reliable companion. Perfect recording quality, the robust housing and easy integration into a professional or medical speech recognition make the Olympus RecMic a reliable partner in everyday life. Lawyers, medical professionals or anyone who wants to work with speech recognition cannot do without the RecMic series from Olympus. The robust housing and the perfect sound quality ensure the best results when dictating in PC applications."
In summary, as industries evolve and careers shift, Olympus products will always be at the forefront of personal audio capture devices. Leading dictation into the future of speech recognition. When it comes to quality, durability and reliability, the Olympus RecMic II not only saves you time, but it will also save you money.

Thanks to the following partners who contributed to this article:
Crescendo Systems Canada and Europe: https://www.crescendo.com/
Lexacom UK: https://www.lexacom.co.uk/
Freedom of Speech UK : http://www.freedom-speech.co.uk/
VoicePower UK : https://voicepower.co.uk/
Voice Technologies UK: https://www.voicetechnologies.co.uk/
SpeakIT Solutions UK : https://www.speakit.co.uk/collections/olympus-recmics
WMC Diktiersysteme GmbH : https://www.wmc-diktiersysteme.de/
Share