Advanced Noise Canceling Technology – Pushbutton
RecMic II RM-4010P
Record Only What Matters Most
Create clean, accurate verbal notes efficiently with the Olympus RecMic II. This series of desktop dictation microphones combines advanced technologies in an innovative advanced noise canceling system ideal for noisy environments. The RM-4010 is specifically optimized for use with speech recognition software, capturing natural speaking voices with ease.
Intelligent dual microphones control the directionality to keep the focus on the person dictating and suppress non-voice noise eliminating anything outside the human frequency range. In addition, a triple-layer studio-quality filter blocks traditionally problematic sounds including wind and breath noise. The RecMic II microphones retain accurate spoken audio without any distortion while suppressing unwanted noise, and make controlling desktop dictation easy.
Olympus Professional Dictation products are available exclusively through our network of Certified Dealer Partners. Present in all 50 states and Canada, our dealers are trained in configuring the most efficient and cost-effective dictation and transcription solutions.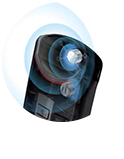 ACCURATE & CLEAR EVEN IN NOISY ENVIRONMENTS
Dual microphone technology creates narrow directionality that focuses on the acoustics in front of the microphone and cancels unwanted noise from the sides and back. Learn More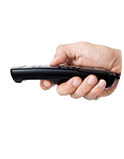 INTUITIVE CONFIGURATION
The RecMic II is easily configurable with third-party applications including web applications without having our software running, and can be used as a USB Keyboard for easy control simply by changing modes. Available with slide switch or push button.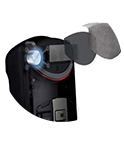 PROFESSIONAL STUDIO-QUALITY FILTERING
The triple-layer pop filter uses the same technology found in professional studio recording microphones to block unwanted but difficult-to-eliminate sounds such as breath and wind vibrations. Learn More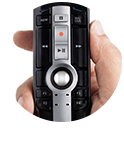 ANTIMICROBIAL HOUSING
The housing and buttons on every RecMic II are made of antimicrobial coating materials (ISO 22196). The "tolerance to alcohol" design allows for superior cleanability. Learn More
FREQUENTLY ASKED QUESTIONS
What makes the RM-4010P appropriate for healthcare environments?
The antimicrobial housing on the RecMic II is achieved by the technology provided by our supplier Polygiene
Polygiene antimicrobial technology is based on the natural ability of silver to inhibit the growth of microbes. The Polygiene silver compound is added during the manufacturing process and Polygiene silver ions are released at the surface, which inactivates the microbes upon contact.
Additionally, thanks to the alcohol resistance painting, the device can be wiped with alcohol or the like. The device can be cleaned as needed in the medical environment. The following chemicals can be used for this purpose in order to disinfect various types of substance
Ethanol for disinfection (76.9 to 81.4 v/v%)
Isopropanol for disinfection (70 v/v%)
RM-4010P SPECIFICATIONS
Overall Frequency Response
Microphone Sensitivity
Microphone Sensitivity Difference
Conference: 0dB
Dictation: -12dB
Voice Recognition: -18dB
Variable: -7 to -56.5dB
Maximum Output
Microphone/Speaker diameter
Power Consumption (Current)
Standard mode: 278mA or less
Low power mode: 80mA or less
Input Level
Includes
Operating System
Windows: Windows Vista/7/8.1/10
Mac: Mac OS X 10.5~10.12
Cable Length
Dimensions (mm)
Weight(g)