A few decades ago audio technology was in need of a few upgrades. Though the technology was good for the time, there was both consumer and professional demand for high-quality audio that had dictation and speech-to-text solutions in mind. Those demands would be met in March of 2005 by by a consortium of companies including Olympus.
This joint venture would come to produce the de facto speech standard, offering high audio quality for spoken language with a high compression rate, making it easy to manage audio files within a workflow system.
---
Joint Standard | Compatibility with Additional Features
Previously standards in audio quality had not been established. Especially when it came to file size and workflow system compatibility. The introduction of a standard that not only gave high audio quality but also high compression ability, was a significant base line change to the standardized of processing digitized speech today.
Since this time, the .dss file format has become of the leading standardized and future-proof storage format for speech files. Government agencies, legal, medical professional industries and more look to the .dss format to save them cost, time and provide application benefits to their organizations.
An Evolution in Security | DSS Pro (DS2 file format)
As technology progressed in the digital age, file security became more and more paramount. As a result the "Digital Speech Standard Pro" (DS2) file format was introduced in a further development of the DSS format, utilizing the same file compression technology but also introducing a key feature; Encryption.
File encryption is provided at 128-/256-bit AES (Advance Encryption Standard), allowing the dictation files the author has created to be protected, which is important for confidential dictation data.
The new and improved DS2 format also supports better sound quality which in turn improves the speech recognition results.
What is Required | High Compression with High Audio Quality
One thing to understand about audio files, is they can get quite large in file size very quickly. It doesn't take but a few minutes of dictation to become a file size that is too large to send quickly within a work flow system or even via email. On top of this, if you use different audio formats, there can be compatibility issues. The DSS format fixed all of this by setting the standard with high audio quality and high compression ability. This makes things very easy to send your audio files where they need to go quickly without losing quality. This is vital in some professions as the audio quality needs to be able to pick up a whisper and apply speech recognition. Furthermore, studies show that most dictation happens on mobile devices. Keeping this in mind, power consumption becomes an important factor. Having to spend long periods of time uploading large files or locating Wi-Fi for faster transfer is not good. The development of the DSS format changed all of that with small file sizes for fast transfers without losing audio quality.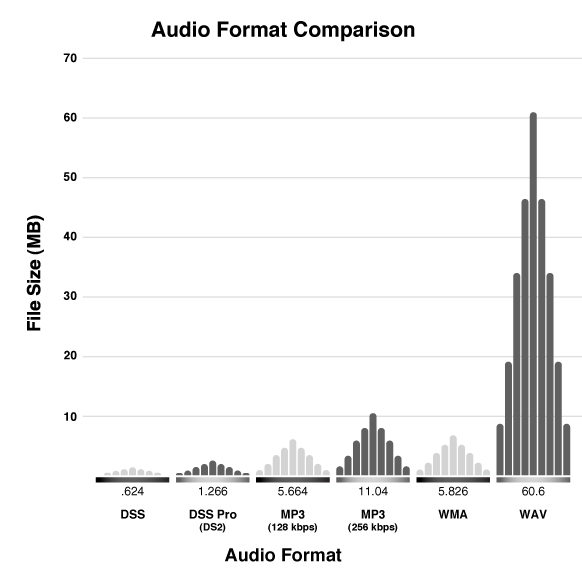 Sound Quality | It's Like an MP3 for Music
Most of us are familiar with the audio format MP3 and associate that with music but it's also just an audio format like any other. As a compression algorithm for speech, DSS is comparable with the MP3 format. The DSS file sizes are very small, allowing them to be transferred easier as well as, the technology only compresses the parts of speech that are truly important. The standard practically filters out the concentrated speech of a dictation without losing quality.
DSS in the Workflow | A Particularly Useful Tool
To utilize the full workflow functionality of DSS/DS2, a highly efficient workflow management software is the key. Professional software allows DSS/DS2 files to be played back and processed efficiently. All-in- one workflow management solutions support comprehensive utilization of the diverse functionality and features of digital dictation technology.
Here you can visualize different file formats and the file sizes in MB for the same 30-minute audio clip. You can see how the compression rate of the Digital Speech Standard creates such a small file in comparison to other common audio file formats.
Share