Professional grade recorders capture audio more reliably and allow fast, secure sharing of files.
More than ever, documentation is a critical part of professional business, especially law enforcement.  Recording interviews, interrogations, notes and traffic stops is standard practice.  You need it to be easy, but you also need clear recordings that can be accurately transcribed and maintain a rock-solid chain of evidence.  Today's professional digital recorders—like the Olympus DS-9500—are designed to meet these rigorous requirements.
Durable and Easy to Use
Encapsulated in a shockproof body made of polycarbonate, the DS-9500 is designed to be a strong and dependable workhorse in heavy-use environments and can withstand drops of up to 1.5-meter (4.9-ft). Its intuitive, optical slide switch reduces risk of mechanical failure for increased durability. The body is alcohol-wipe resistant, and both the DS-9500 and DS-9000 are backed with a 2-year warranty. 
Small enough to fit in a pocket (4.75" x 1.96" x 0.73") it weighs just 4.1 oz. (including battery) so it's easy to have with you whenever or wherever you need it.
Unparalleled Recording Quality
Whether at a crime scene or a police station, recording can be a challenge due to background noise, such as traffic, wind or other conversations. Re-using cassette tapes can diminish fidelity while adding artifacts from previous recordings.
Today's digital technology can defeat these challenges with advanced features such as: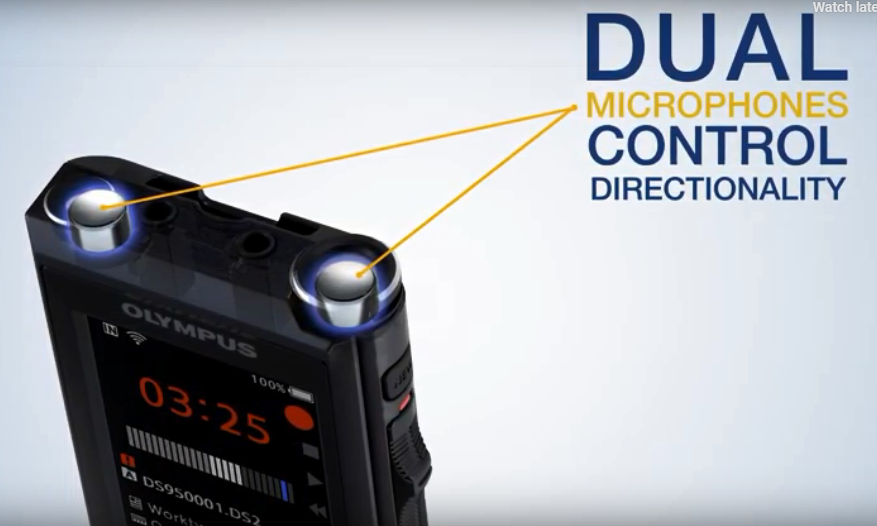 Intelligent dual microphones that suppress unwanted background noise

Triple-layer sound studio pop filter that blocks breath and wind vibrations

An ergonomic slide switch makes recording comfortable and fast, and a classic, intuitive interface allows for single handed and blind operation. Just a flick of the thumb takes you back to your intended place or back-start without looking at the screen.
Store More, Manage Better
Professional recorders featuring VCVA, Variable Control Voice Actuator (VCVA), help limit file size by cutting out long pauses, which means the internal storage capacity can hold more meaningful content, using a 2GB micro Secure Digital (SD) card. Plus there is a slot for a SD High Capacity card (32GB), allowing for simple chain of evidence handling and compliance.
The DS-9500 is also WiFi compatible for immediate sharing with a transcriptionist. No matter how hard you work, you can rest assured your dictation system will keep pace.
Our professional recorders include software for workflow integration to save time. The Olympus Dictation Management System (ODMS) software suite drives workflow automation in both on-site and off-site environments, incorporating file routing and workflow rules for peak efficiency. ODMS also provides a seamless interface with Nuance® Dragon® Speech Recognition software to transcribe your dictation files automatically with back-end speech recognition.
Mobile Phone App Integrates with Workflow
For those employees not requiring the quality of a professional recorder, but still needing the files to integrate within the full system of the organization, we provide a simple and secure solution.  The upgraded Olympus Dictation App 2.0, for iPhone® and Android™, makes it possible to dictate from anywhere in the world – and then immediately send the recordings directly into a back-office workflow system.  
With the Olympus Dictation App, busy law enforcement officers can create crystal-clear voice recordings anywhere with their smartphone. Combined with a subscription to the Olympus Dictation Delivery Service (ODDS), encrypted dictation files can then be emailed into the organization's Olympus Dictation Management System workflow for automatic routing to a transcriptionist, voice-recognition software or a secure archive. That means increased efficiency, decreased costs, and getting more done in less time.
Enhanced Security
And finally, only professional grade systems are engineered to keep critical recordings safe and private. Olympus Professional Dictation voice recorders offer 256-bit file encryption, four-digit PIN locking, time and date stamp, and other advanced security features to ensure sensitive information is not tampered with.
And in the unlikely event something goes wrong, support is as close as a call to your personal authorized professional audio dealer. 
We make professional equipment for hard-working  professionals. Don't settle for less.
Recording Level Comparisons:
Olympus DS-9500

Olympus DS-2600

Olympus DM-720

Olympus WS-852

Recording Format
DSS, DSS Pro, WAV, MP3
DSS, DSS Pro, WAV, MP3
MP3, WAV
MP3
Battery Type
Removable Lithium Ion
Removable Lithium Ion
AAA Alkaline
AAA Alkaline
Internal Memory
2GB
2GB
4GB
4GB
External Memory
SD
SD
MicroSD
MicroSD
Microphone Type
Intelligent Dual Microphones
Dual Directional Microphones
Tresmic – 3
microphone system
True Stereo – 2 Directional Microphones
Slide Switch
Yes
Yes
-
-
Durable Housing
Shockproof to 1.5m
Shockproof to 1.5m
-
-
Encryption
256 Bit
-
-
-
PIN Lock
Yes
-
-
-
WiFi Capability
Yes
-
-
-
Connectivity
LAN, USB Cable
USB Cable
USB Direct
USB Direct
Software
ODMS R7
DSS Player
-
-
Cradle
Included, LAN enabled
-
-
-
Index Marks/Notes
32 per file max
32 per file max
-
-
Enterprise Capable
Yes
-
-
-
Cost
$$$
$$
$$
$
Share